Print Edition Highlights - July 30, 2015



Last ride with Officer Stiles
By Curt Werner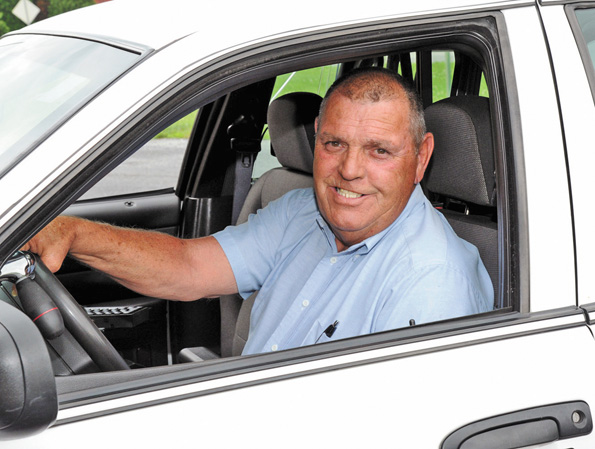 Photo by Curt Werner
Carroll Township Police Officer Ron Stiles sits in his police cruiser. After more than 36 years of law enforcement duties, Stiles will retire this week.
____ This will be the final week of Patrolman Ron Stiles' service with the Carroll Township Police Department and an opportunity for me to share my memories of his service.
____ After more than 36 years of law enforcement duties, the last 12 with Carroll Township, Stiles moves on to the next phase of his life.
____ Early on with Carroll Township, Stiles was asked by Mark Ryder, who was on Dillsburg Borough Council at the time, if he would like to be the liaison between the police and the borough. This opened the door for better communication not only for the borough, but also the news media.
____ As a photographer, patrolman Stiles and I became friends and many times our paths would cross during emergency calls. To help report on the duties of the police force, I would ride with patrolman Stiles.
See the July 30, 2015 edition of the Dillsburg Banner for details.
---
Colonial Days Camp at Dill's Tavern
By Kate McGlynn

Photo by Curt Werner
Dressed in Colonial garb is Darrah Seip, 9, in front of the walking wheel, used for spinning wool into yard.
____ Three years ago, retired South Mountain Elementary teacher Cathy Cavanaugh decided to combine her love of teaching and her involvement in the local historical society by starting a Colonial Days camp for kids entering third through sixth grade.
____ The Colonial Kid's Camp is a five- day camp that takes place the third week of July every year from 9 a.m. to noon. Each morning is filled with activities that show kids what life was like during the colonial period. Each day starts with an opening activity for all of the kids, usually a colonial game or a story that connects with the day's activities.
____ The kids split up into three groups that rotate through several activities that cover a variety of aspects of colonial life. The activities differ from year to year, so even return campers are never bored.
____ This year, the kids participated in a large assortment of historical activities. They learned all about colonial gardening in the tavern's on-site vegetable garden, then got to take those vegetables and use them in a meal made over the hearth. They also got to try their hands at a variety of crafts, making a tin cup, a wooden whistle, and a hand-dipped candle.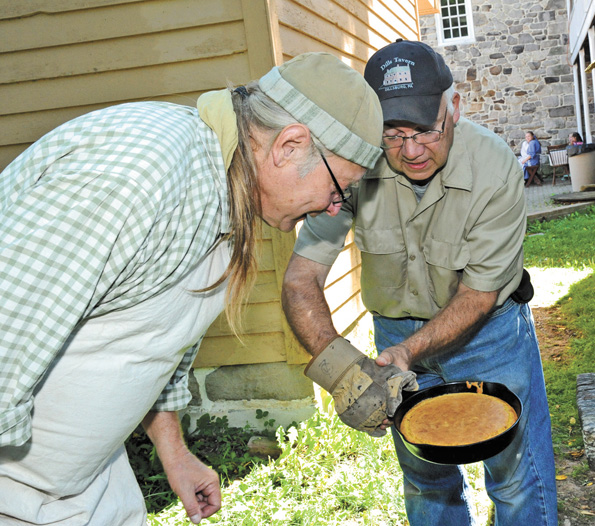 Photo by Curt Werner
Steve Pancoe and Clair Zeiders inspect cornbread freshly baked in the beehive oven at Dill's Tavern.
See the July 30, 2015 edition of the Dillsburg Banner for details.
---
As it Was:
Mt. Olivet campgrounds stumps readers
By Peggie Williams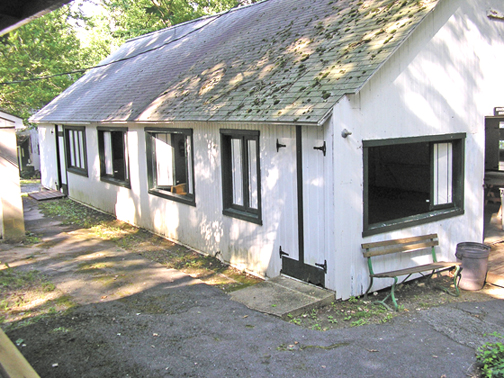 The store and boarding house at the Mt. Olivet campgrounds as it looks today.
____ Everyone was stumped this month. Although we had guesses of several ice cream shops including one that predated Haar's Drive-In at that location and one out on Route 15 south bound just north of Route 74, it is actually the store and boarding house at the Mt. Olivet campgrounds. According to the book published for the Camp meeting's 100th anniversary, it was taken around 1949.
____ Holding its 139th Camp Meeting in just a few weeks, Mt Olivet came into existence like many religious camps, as the way that circuit riding preachers who traveled from town to town in the frontiers of America could bring the word of God to areas that were often high on independence and self-reliance, but low on mores and morals. They would spend a week or two at each location spouting fire and brimstone sermons, singing lively hymns and extolling vivid descriptions of hell-fire-and-damnation to keep the settlers on the course of righteousness.
____ These weeks soon became not only a way to assure the locals they could save their souls, but a much anticipated social event that helped solidify the community.
See the July 30, 2015 edition of the Dillsburg Banner for details.
---
Also in the July 30, 2015 edition:
-Community Calendar
-Obituaries
-Letters to the Editor
-Editorials
-Births
-20 years ago
-Classifieds
---
---
Print Edition Highlights - July 30, 2015

Dillsburg 9-10 squad claims Section 7 title, wins first game at states
By Andy Sandrik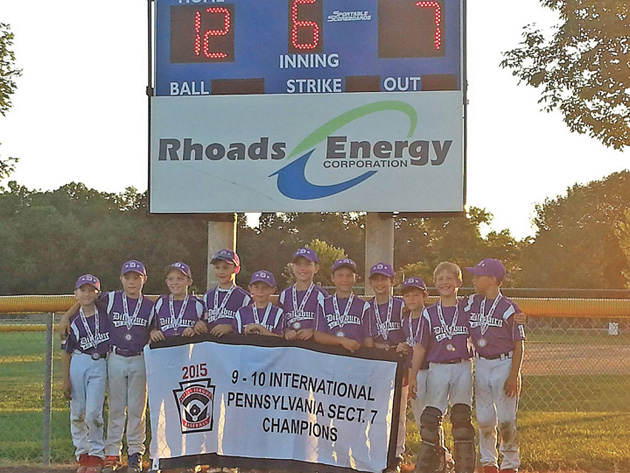 The 9-10 International Pennsylvania Section 7 Champions.
____One by one, Dillsburg Youth Baseball's all-star baseball teams have seen their impressive runs through the postseason come to an end.
____But Brian Bonin's unbeaten 9-10 squad is still clicking on all cylinders.
____Dillsburg wrapped up a Section 7 championship on Thursday with a 12-7 victory over Lionville to advance to the Pa. state tournament, which Bonin's team began on Tuesday with a 12-0 triumph over Conneaut Lake.
____Dillsburg (11-0) was scheduled to face Red Land on Wednesday in the semifinals, with the winner getting two chances to claim a state title.
____"We're pretty excited, as you can probably guess," Bonin said.
____Bonin's team entered Wednesday's game having outscored their opponents by 100 runs, 123-23.


See the July 30, 2015 edition of the Dillsburg Banner for details.
---
Bleiler making his mark in Denmark
By Joe Guty



Robbie Bleiler is making his mark playing football in Europe this past spring and summer.
____ Former Northern H.S. and East Stroudsburg University standout Robbie Bleiler is making his mark playing football in Europe this past spring and summer. Bleiler has played both as a wide receiver and defensive back posting 12 touchdowns and making two interceptions for the 7-0 Triangle Razorbacks. Bleiler recently returned from Greece as the team was on hiatus for the month July before resuming games in August.
____ Bleiler has enjoyed his time in Denmark and traveling in Europe. His roommates --a quarterback and a linebacker ---are American. He said that the people are friendly and English is commonly spoken.
____ The European National League Championship is slated for October 10. The Razorbacks, based in Vejli, are currently ranked 19th in the American Football International weekly list of top teams in European leagues this year.

See the July 30, 2015 edition of the Dillsburg Banner for details.
---

Wolf Tracks
August is the month to head North
By Dave Wolf



Photos by Dave Wolf.
When the bulls are in rut, Winslow Hill is a busy place.
____ Maybe it's the mountains, a place my wife loves. The cooler weather of the northern counties come calling at this time of the year. The heat of the southern states should push those vacationers north, where on most days the temperatures average a good 10 degrees cooler.
____ Most evenings there is no hum of air conditioners, the windows are slipped open, and the cooling breezes glide into the cabins and homes. There are so many reasons to go, and so much to see. There is the nectar of morning dew, dampening the grasses of both mowed and non-mowed fields at the forest's edge.
____ It's been said that to truly know the country, you must live within it for a year. But I find that it takes far more than a year, far more than a lifetime. Yesterday morning I watched two large bucks with their racks draped in velvet, heading back into the woods. They were leaving the field where they had fed during the night. What magnificent creatures they were, as I paused and drank deeply of the moment. There are white-tailed fawns, still dappled with snowy blotches; hen turkeys, with this year's clutch still in tow.
____ The magnificently powerful black bears are now roaming the big woods. This is one animal I love, and for which I have a deep respect. The hills are indeed filled with the sound of music and the settings in which they're found are first class. The eerie, yet magical bugle of a bull elk is finer than any melody I have ever heard. The elk herd is now increasing in numbers, and the tourist promotion agencies are doing a great job of endorsing it— so in recent years, we have been following and photographing Pa's elk herd. Benezette is the well-known and most often visited area to view elk, but the future plans are to expand the elk herd. Department of Conservation and Natural Resources (DCNR) Secretary Cindy Adams Dunn announced back in May that the department is adding more than 17,000 acres of wooded land and waterways to the adjacent Elk State Forest. They were able to do this with the acquisition of about a 27-square mile property in the townships of Norwich and Sergeant, near the town of Clermont, in southern McKean County.

See the July 23, 2015 edition of the Dillsburg Banner for details.
---