Print Edition Highlights - February 15, 2018

Photo Curt Werner/Dillsburg Banner
Wellsville Borough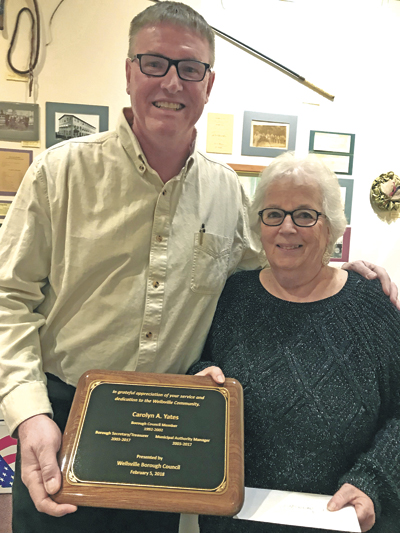 Wellsville Mayor Craig Harlacker presents Carolyn Yates with a plaque honoring her service to the borough.
By Carolyn Hoffman
_
</span>Celebrating the third-longest service in the town's history, Wellsville's long-time secretary/treasurer, municipal authority manager and former council member Carolyn Yates retired after 26 years.
</span>She served more than 14 years as borough secretary and was on the council for 11 years before that.
To commemorate the occasion and her service, council presented her with a plaque and a locally-baked cake decorated as the borough office building.
</span>Stephanie Bruce was hired for the position vacated by Yates's retirement.
</span>In other action at the February 5 session, it was reported it will cost the Wellsville Sewer Authority $10,000 to clean up the oil sludge that entered the sanitary sewer system. Precisely where the sludge entered the system is not known, but council believes it originated in connection with the recent construction at Wellsville Elementary School.
</span>Pennsylvania State Police reported a total of seven crashes in the borough during 2017. Dean Trump asked for and received approval for the list of fire police and a list of Northern York-area events for which the police can assist in 2018. Additional events can be added during the upcoming year as they become known. Wellsville Fire Co. reported 36 calls in January with none in the borough.
NYCSD Superintendent Eric Eshbach and fourth grade student representative Madison Barnett cut the ribbon during the dedication of a new wing at Wellsville Elementary School on Feb. 9.
</span>After a year of anticipation, Feb. 9 marked the long-hoped-for grand opening of a new wing at Wellsville Elementary School. Students and teachers were ready to celebrate the large addition that included a gymnasium, library and classrooms.
</span>Principal Faithe Rotz welcomed guests and dignitaries including Northern York County School Superintendent Eric Eshbach, school board members and representatives from Senator Mike Regan's office, Crabtree and Rohrbaugh Architects and Lobar, Inc. builders.
</span>Retired and former employees, families of current and former students and administrators from the school district also joined the festivities.

For more information see the February 15, 2018 edition of the Dillsburg Banner.



Gavin Stuckey finished 27th in the Boys 200-Yard IM with a time of 2:16.38.


Photo by Curt Werner

By Joe Guty

</span>Northern H.S. swimmers garnered the fruits of their hard work this season with outstanding performances at the Mid Penn Conference Championships last weekend, Feb. 9-10. Focused on improving their seed times going into the meet hosted by Cumberland Valley H.S., the Polar Bears posted 23 career best times and three season best times over 36 swims. Over 24 swims (20 individual and four relay entries), Northern athletes improved on their seed time in 21 of them.
</span>"It was a very good week for Northern Swimming and Diving," said Head Coach Bill Resser. "Our swimmers significantly improved their seed times going into the PIAA District Championships, which is excellent!"

_______________

</span>The Northern wrestling team had high hopes for the dual season. And with a first-round loss in the district postseason, Josh Murray's Polar Bears fell short of expectations.
</span>But that setback just may have been a blessing in disguise. </span>Northern's wrestlers have had time to lick their wounds, iron out some wrinkles and get focused for the individual postseason, which begins this weekend with the District 3 Section III-3A Tournament.
The top four wrestlers from each weight class in the tournament, held at Mechanicsburg, will advance to next week's District 3-3A Championships.
</span>Northern has registered 11 wrestlers for competition this weekend.
"We regrouped after team districts and have refocused on the postseason," Murray said. "We're on slim numbers and some of these guys, we won't know until Thursday whether they can wrestle or not."
</span>The Polar Bears are led by a trio of 100-match winners -- Paul Feite, Micah Hoffman and Jake Koser -- who are all expected to contend for section gold this weekend. Northern's lineup is rounded out by a group of youngsters, as well as handful of upperclassmen with something to prove.
Murray has a message for his team.
</span>"We want them to have fun, wrestle hard and have no regrets," Murray said. "It all comes down to this for our seniors. I can remember when those guys were freshmen.
</span>"We want our guys to make the most of each moment. Wrestle confident and at your best."
</span>Below is a weight-by-weight look at each of Northern's wrestlers entered to compete at sectionals this weekend:

________________

For more information see the February 15, 2018 edition of the Dillsburg Banner.