Print Edition Highlights - October 23, 2014


House fire ruled accidental
No one injured, more than 200 snakes perish
By Marie Chomicki

Photo by Curt Werner
Firefighters battle a house fire before sunrise on Bentz Mill Road Tuesday morning.
____ An early morning house fire Tuesday in Washington Township was ruled accidental.
____ "It was started by ashes in a plastic bucket on the back porch," State police fire marshall Trooper Brad Dunham said.
____ Both homeowners and their dog were able to get out of the house safely, Wellsville Fire Chief Larry Anderson said. Over 200 snakes were not as fortunate. "We lost count after 280," Anderson said. Many died in their cages from the heat of the blaze in a basement area.
____ "It was a very fast moving fire, in a very unique structure," Anderson said of the pentagon-shaped home at 1050 Bentz Mill Road in Wellsville.
____ "An attached porch was burning heavily and completely engulfed in flames when we arrived, just after 5 a.m.," Anderson said. The fire quickly spread inside the five-sided structure and into an open central courtyard with a swimming pool.


See the October 23, 2014 edition of the Dillsburg Banner for details.
---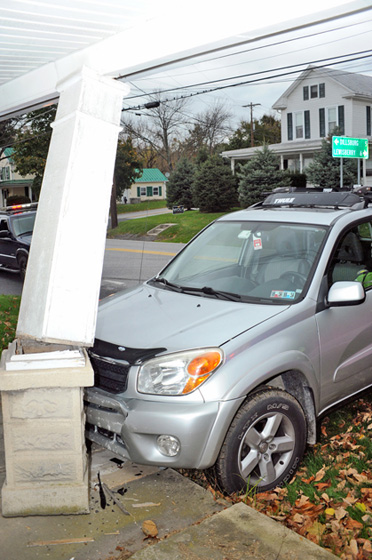 Photo by Curt Werner
On Wednesday, October 22, a two-vehicle accident forced one car into a house at the intersection of South York Road and East Siddonsburg Road in Monaghan Township. No injuries were reported. One car had to be towed.
See the October 23, 2014 edition of the Dillsburg Banner for details.
---

Photo by Marie Chomicki
Generations of tractors and drivers participate in the annual tractor parade Saturday afternoon.
____ Anyone up and out early on Saturday morning might have been puzzled by so many tractors on the main roads leading into Dillsburg; anyone who didn't know it was Farmers Fair, that is.
____ Against the pink streaks of morning sky, the outline of a farmer on his tractor made the perfect backdrop for what turned out to be a perfect weekend for fair events.
____ The weather was downright balmy on Friday – when students enjoyed a day off school – and made even just a sweater enough for the Children's Parade. The sun alternated with clouds on Saturday, but a downpour just a couple miles outside the borough limits in the afternoon miraculously never made its way downtown.
____ "It's looking like a great weekend," said Fair President Carl Shearer with a large smile inside Community Hall, where chicks peeped at onlookers and children ran eagerly – while adults pretended to saunter casually – to see if their exhibits had won any ribbons.
____ Monaghan Twp. resident Dianne Rudy was elated to see blue ribbons dangling from her canning jars of raspberry jam, apple jelly, sweet pickles and dill pickles. The dill pickles tasted bad, she confided, but it didn't matter because they were only judged on looks and on that, she wowed the judges with her even placement of whole, uniform pickles in the jar.
See the October 23, 2014 edition of the Dillsburg Banner for details.
---
---
Print Edition Highlights - October 23, 2014

Bears to face Falcons on Senior Night
By Joe Guty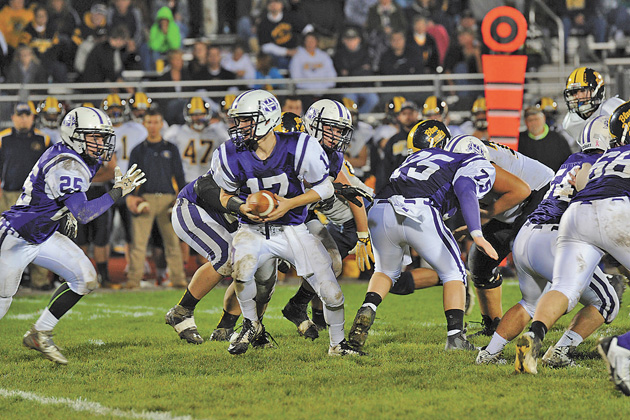 Photo by Curt Werner
Northern's quarterback Curtis Robison hands the ball off to Sam Geiser in third quarter action.
____On Senior Night this Friday, the Northern Polar Bears will host the Lower Dauphin H.S. Falcons in a non-league contest. The Polar Bear gridders fell to 3-5 overall and 2-3 in the Mid Penn Colonial Division last week when they hosted Greencastle in a Farmers Fair weekend clash. The Blue Devils (6-2, 3-1) wasted no time scoring two touchdowns early on the way to a 27-9 win. James Hines' two-yard run at 9:49 and Matt Oberholzer's 10-yard touchdown scamper with 20 seconds left gave the visitors a 14-0 lead. Late in the second quarter, a Curtis Robison to Mike Kearney pass was good for 32 yards and set up Aiden Alves' 34-yardfield goal (at 2.6 seconds).
____Greencastle cashed in on an interception early in the second half to post their third touchdown of the night, a three-yard run by quarterback Spencer Myers. Then they capped a seven-yard, 65-yard drive for another score at 7:12 with an eight-yard jaunt by Oberholzer. ____Quarterback sacks by Cale Walker and Jared Sutch and a strong punt return by Andrew Swaisgood prefaced a five-play, 29 yard scoring drive for the Polar Bears. On second down, with :11 on the clock, Robison rolled left and connected with Ethan Bell who made a nifty catch for Northern's only touchdown. Both teams waged a defensive battle in the fourth quarter as the visitors held on for the victory.
The Blue Devils outgained Northern in rushing with 148 yards to the Bears' 48. Sophomore quarterback Curtis Robison was 14-for-33 for 180 yards. Mike Kearney led Northern with four catches for 79 yards while Ethan Bell added five catches for 54 yards. Jake Cromer added 30 yards on three catches and Jared Sutch had an 18-yard reception.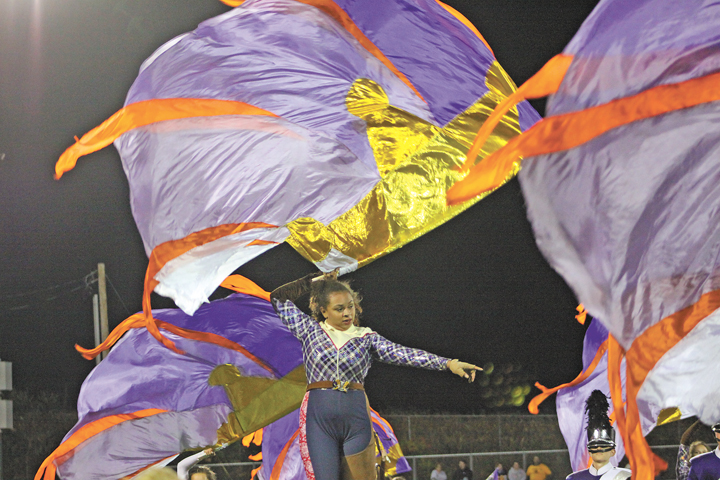 Photo by Mark Ryder
The Northern Color Guard performing their half-time routine during Friday night's game against Greencastle.
See the October 23, 2014 edition of the Dillsburg Banner for details.
---
Curry named Capital Division Player of the Year
By Joe Guty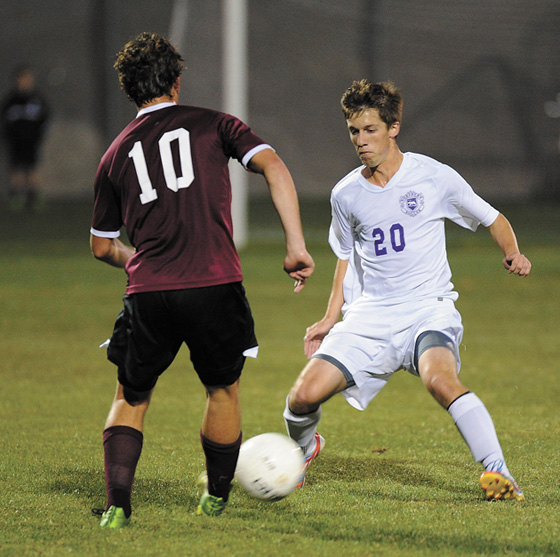 Photo by Curt Werner
Northern senior Nate Curry, #20, takes control of the ball.
____ Northern senior forward Nate Curry was selected as the Mid-Penn Capital Division's Player of the Year on Sunday night at Cumberland Valley High School.
____ Curry and all of the First- and Second-Team all-stars were selected by the Capital Division coaches.
____ Curry was one of three Northern players selected as all-stars. Junior forward Seth Weaver was selected to the First Team and junior goalkeeper Jacob Graybill was selected to the Second Team.
____ For the second year in a row, Curry led Northern in points, posting 12 goals and four assists to lead the Polar Bears. Curry was a First Team selection in 2013 after scoring 19 goals and recording four assists.
____ Weaver was Northern's second-leading scorer with six goals and three assists.
____ Graybill won the starting job in goal over returning starter Noah Richwine and was the anchor for a defense that registered two shutouts and allowed one goal three times.


See the October 23, 2014 edition of the Dillsburg Banner for details.
---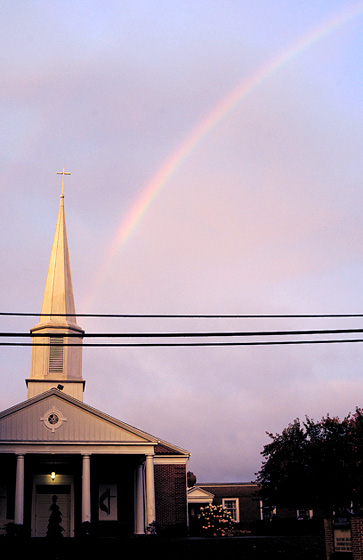 Photo by Curt Werner
Photographer Curt Werner captured this rainbow Wednesday evening, Oct. 15 over Calvary United Methodist Church in Dillsburg on Mumper Lane.
---