Board grants conditional use for South Mountain Commons
By Kristen Stagg/Staff Reporter
After listening to nearly three hours of testimony from both the project manager and traffic engineer, Carroll Township supervisors voted 3-1 in favor of granting conditional use approval to York Land Development, LLC, for South Mountain Commons last night, Nov 30.

David Bush, Tim Kelly and Brent Sailhamer overcame Kelly Wall's objection (Kelley Moyer-Schwille was absent due to illness) to grant the conditional use for a distribution center to be located on York Road (Rt. 74). Under consideration for this hearing was Lot 1, consisting of approximately 31 acres proposed to house a 252,000 square-foot building, parking for over 80 employees and space for more more than dozen tractor-trailers.
See next week's paper for details. For video of proposed building site, please visit our Facebook page!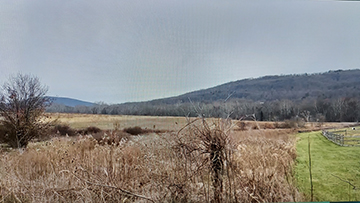 Print Edition Highlights - November 30, 2023

School board says goodbye to four members
Mary Lou Bytof/Staff Reporter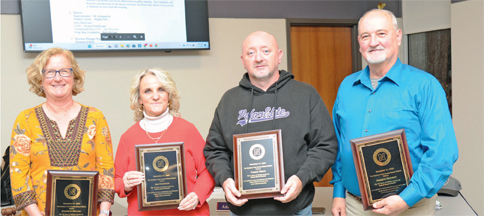 Curt Werner/Dillsburg Banner
Pictured from left are Dr. Beth McLean, Ann Hoverter, Thomas Welch and Ken Sechrist.
When they were elected to serve on the Northern York County School District board of education, outgoing members Ken Sechrist, Ann Hoverter and Elizabeth McLean had no idea what would be in store for them; however, they persevered through some of the most difficult years ever experienced by any board in district history.

Although the pandemic and the relentless mask debates had already begun when Thomas Welch was appointed to the board, he, too, had to weather the many unprecedented problems facing the board.

On Tuesday, November 21, Northern administrators honored the four outgoing board members with a small reception with refreshments before the 6:30 regular board meeting. This gave administrators and fellow board members the opportunity to say goodbye to those leaving and to wish them well.

In addition to tackling the myriad of problems posed by the pandemic, in the past three years the board also navigated through the transfer of Washington Township students from the Dover School District to Northern. They conducted the search for a new superintendent. Then they faced another unexpected and unique dilemma: a request to run a Satan Club and Northern Elementary School. With much effort from the board, the administration and the school solicitor, the board effectively kept the club out of district schools.
For the rest of the story see the November 30, 2023 edition
___________________________
Residents oppose warehouse near Northern schools
Kristen Stagg/Staff Reporter
Carroll Township residents have plenty to say about two massive warehouses proposed for land bordering Northern York County Schools - and very little of it is complimentary. The comments from residents who sit either directly across or close to the 100-acre property runs the gamut from irritation to downright outrage.

Northern Business Park Lot #1 was first proposed by William Aiello of Crossroads Commercial Development, LLC, but was withdrawn on March 2 of this year. Aiello remains a managing partner in the venture with Steven Duncan and Keith Matzke of SDKM Dillsburg Land, LLC, a subgroup of Clarius Partners, LLC, a commercial development firm in Chicago.

The development was resubmitted to the township one day before a zoning ordinance amendment regarding warehouses and distribution centers took effect. The conditional use hearing started on Nov. 15, and will continue on Dec. 14.

At the initial hearing on Nov. 15, more than a dozen individuals registered as objectors to the development. Most of them live on nearby Grandview Court or Grandview Drive, but two represent Dillsburg Borough: engineer Timothy Knoebel and mayor John Richardson.

All registered objectors will be able to cross-examine the developer's witnesses, provide testimony and exhibits of their own, as well as provide expert witnesses. In order to register for objector status, Carroll Township attorney Michael Pykosh said individuals must demonstrate that the development would affect them "more than the average citizen."
For the rest of the story see the November 30, 2023 edition.
___________________________
Board plans to move money to save for building
Carolyn Hoffman/Staff Reporter
Monaghan Township's 2024 budget is a balanced one, but at first glance it doesn't look that way. That's because supervisors plan is to move money from the general fund into a capital reserve fund to save for the planned township building.

The capital reserve fund will end up at $2.1 million, as the township will use that to try and borrow as little money as possible for a new township building. That includes nearly $2 million for the building, and $88,000 for the replacement of a large truck. All told the 2024 budget is $3.2 million, with $988,407 for the general fund and $158,940 for the state liquid fuels fund.
For the rest of the story see the November 30, 2023 edition.

Tip-Off Tournament ushers in new season this weekend
Joe Guty/Dillsburg Banner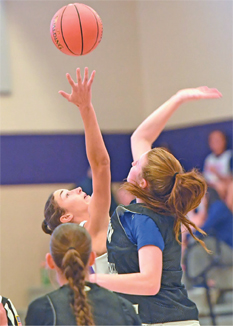 Curt Werner/Dillsburg Banner
Anna Lhman wins the tipoff starting the scrimmage against South Western.
This weekend, the Northern H.S. Varsity and JV Girls' Basketball teams will open the 2023-24 season when they host the annual Northern Tip Off Tournament. On Friday, Dec. 1, the Northern varsity squad will play East Pennsboro H.S. at 5 p.m. while Chambersburg plays Shippensburg at 8 p.m. Saturday's Consolation game begins at 1:30 p.m. followed by the Championship game at 3 p.m.

The JV opener on Friday begins at 3:30 p.m. with the East Pennsboro JV vs. Northern JV followed by the Chambersburg JV against Shippensburg JV at 6:30 p.m. On Saturday, the JV Consolation game starts at 10:30 a.m. followed by the JV Championship game at 12 noon.

The Lady Polar Bears went 21-5 last year and qualified for the District III Tournament and PIAA Class 5A State Championship Tournament. After a sluggish start in last Saturday's tri-scrimmage against West York H.S. and Southwestern H.S., the team displayed aggressive defense, sharp passing and scoring in the paint. Overall, Northern returns their starting lineup along with several additional role players who will contribute key minutes off the bench.
For the rest of the story, see the November 30, 2023 edition.
___________________________
Thundering Pickle Turkey Trot
Dillsburg Area Soccer Club held their annual Thundering Pickle Turkey Trot on Thursday morning, Nov. 23, with nearly 400 runners and walkers at Northern High School, on Thursday morning, Nov. 23.
Curt Werner/Dillsburg Banner
For the rest of the story, see the November 30, 2023 edition.
___________________________
Northern ready to rumble
Joe Guty/Dillsburg Banner
Basketball season is in full swing for the 2023-24 Northern Middle School (NMS) / Jr. High Boys' teams. The Varsity squad opens at Mechanicsburg on Monday, Dec. 11 at 5 p.m. and is coached by Bryan Griffie.

The current roster includes the following players (with uniform #'s): Kirk Baker (#15), Connor Bollinger (#13), Jude Bower (#5), Fin Connahey (#21), Grayson Cummings (#42), Zachary Krise (#20), Christian Nater (#43), Carter Reck (#22), Ethan Robel (#23), Randyn Rupp (# 50), Christian Stackhouse (#24) and Cole Wagner (#30). Northern hosts Susquehanna Twp. on Thursday, Dec. 14 at 4:45 p.m. followed by an away game against Carlisle (Wilson Middle School) on Monday, Dec. 18 at 5 p.m. On Tuesday, Dec. 19, the Polar Bears host Chambersburg at 4:45 p.m. followed by a road skirmish at Red Land (Crossroads Middle School) on Thursday, Dec. 21 at 5 p.m. On Thursday, Jan. 4 at 4:45 p.m., the Polar Bears will host Cumberland Valley (Eagle View).

The NMS JV team is coached by Mike Freese and also shows much promise this year. The 2023-24 roster includes: Brady Anderson, William Anderson, Javier Bohenich, Gage Castellano, Jamison Cummings, Braylon Curzi, Thomas Damiter, Andrew Freese, Bradley Hileman, Mark McCauslin, Alexander Okoth, Gavin Rogowicz, Cole Syvertson, Kaeden Thuma and Caleb Young.
For the rest of the story, see the November 30, 2023 edition.
___________________________