Print Edition Highlights - July 2, 2015



Heroin dealers, buyers bagged
5-month investigaton yields 1,600 bags of heroin and 11 arrests
By Marie Chomicki

Photo by Curt Werner.
Carroll Township Police Chief Thomas Wargo and York County Chief Deputy Prosecutor David Sunday hold up a poster, after a press conference Monday afternoon, showing the bags of drugs, money, phones and other paraphernalia confiscated by police and drug task force agents during a 5-month long heroin investigation in the Dillsburg area.
____ Carroll Township Police Department and the York County Drug Task Force teamed up to let drug dealers and buyers know they are not wanted in Dillsburg.
____ "We have proactive police here that jumped on right away to get the word out," York County Chief Deputy Prosecutor David Sunday said at a press conference held at the Carroll Township municipal building Monday afternoon. "People (dealers and buyers) will have to go somewhere else," he said.
____ Using "tips from people in the community" 1,600 bags of heroin with a street value of $16,000 was confiscated and 11 arrests were made during a 5-month investigation, Carroll Township Police Chief Thomas Wargo said, adding that this is the biggest bust he has seen in his 16 years on the force.
____ The investigation began in February and targeted individuals purchasing or delivering heroin in the Dillsburg area and surrounding communities. Assistance was provided by the Cumberland County Drug Task Force and the Pennsylvania State Police.
____ Popular spots to do their transactions were the parking lots at Sheetz and McDonald's, Wargo said, adding that the dealers and suppliers came from everywhere, including Philadelphia, Baltimore and Washington, D.C.
____ Police had a bonus drug bust during one of the incidents.
See the July 2, 2015 edition of the Dillsburg Banner for details.
---
Torrential downpour did not dampen spirits at first Tavern Day
By Jeffrey B. Roth

Photos by Curt Werner.
A group relaxes during a meal at Dill's Tavern during the first Tavern Day held last weekend.
____ While Saturday's heavy rain scared off some people, visitors to Dill's Tavern and Plantation's Tavern Day were feted with aromatic, delicious traditional 18th Century food and music.
____ "Actually, this is our first Tavern Day," said Mark O. Hagenbuch of the Northern York County Historical Society, which sponsored the event. "We have a lot of food as would have been in a tavern at the time. We got a special permit from the PLCB, (Pennsylvania Liquor Control Board), to serve beer," said Hagenbuch, who was dressed in 18th Century attire.
____ A military unit and civilian members of the Musket of the Crown participated in the recreation of typical fare at a Pennsylvania colonial tavern.
____ "The rain isn't good," Hagenbuch said. "It's keeping people away. I really don't care if we make money today, it's getting people involved in history and we're having a good time."
____ Near the back of the tavern, in a room with a large, open hearth, Erin Brown, a civilian member of Infantrie Regiment von Donop, a re-enactment group, depicting a typical German Hessian military unit that served with the British during the Revolutionary War. Brown, a Rutgers University graduate, who was awarded a Fulbright grant to teach English in Germany, was in charge of hearth cooking.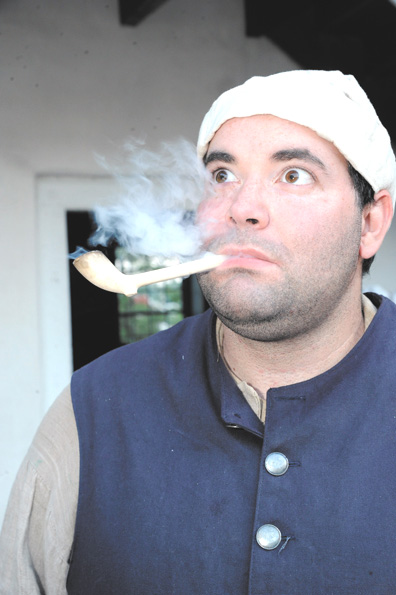 John Rentschler from Burnville, Pa., smokes a pipe.
See the July 2, 2015 edition of the Dillsburg Banner for details.

---
Bridges dominate discussion
By Carolyn Hoffman

____ Warrington Township has eight short-span bridges that are less than 20 feet long to maintain, and the good news is that four of them are in pretty good shape. The bad news, of course, is that four of them aren't.
____ Fortunately, none of the bad ones are so bad they need to be closed to traffic, but a bridge study by the township's engineering firm recommended that three be posted for weight limits. Supervisors agreed and will post the Twin Lakes Road bridge at 13 tons and Memory Lane at 22 tons. The Beaver Creek Road Bridge is already posted for 15 tons, a limit the study found was appropriate. Quaker Meeting Road bridge is the fourth one in need of attention, though no load limits were needed there.
____ Action on repairing the bridges was not taken at this session, as the study was received shortly before the meeting began, and supervisors want to digest the information first. Estimates for repairing the bridges ranged from a low of $59,000 on Memory Lane to a high of Quaker Meeting Road at just under $79,000. A hefty chunk of those cost estimates for are new guide rails. Few local bridges meet PennDOT's newer guide rail standards, as they were built under different requirements.
____ The Memory Lane bridge was reported to have a failed beam, however the bridge has more beams than it needs and those are very close together, so that's a big help. The Twin Lakes Road bridge also has a failed beam down the center, which is why the load limit was reduced to 13 tons.
See the July 2, 2015 edition of the Dillsburg Banner for details.
---
Also in the July 2, 2015 edition:
___
___ -Community Calendar
___ -Obituaries
___ -Letters to the Editor
___ -Editorials
___ -Births
___ -20 years ago
___ -Classifieds
---
---
Print Edition Highlights - July 2, 2015

Dillsburg extends winning streak to four games, forges tie for first place
By Andy Sandrik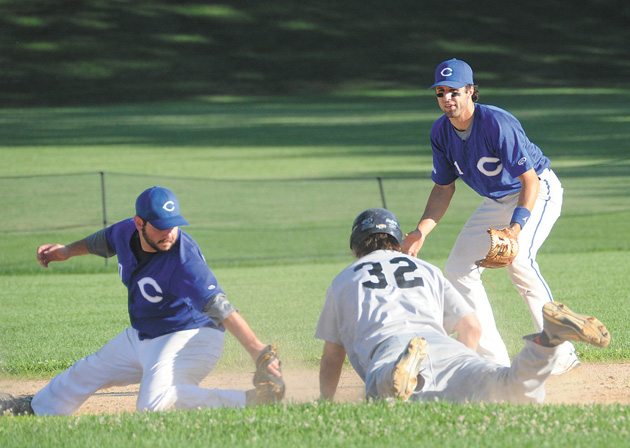 Wolfpack Hank Sanders makes a steal going head-first into second base.
____Vacation plans have scattered much of the roster for the Dillsburg Wolfpack.
____But Harry Sanders' boys are still finding ways to stay competitive in the race for first place in the West Shore Twilight Baseball League.
____Dillsburg defeated Cumberland 3-0 on Wednesday, topped Enola 5-1 on Friday and came from behind to defeat Mechanicsburg 5-4 on Monday.
____The Wolfpack, at 13-4, are tied for first place with Cumberland and New Cumberland and are trailed by Hagerstown (13-5), Shippensburg (9-8), Mechanicsburg (7-7), Enola (3-12), Fayetteville (3-14) and Mt. Holly (0-16).
____"We've been putting a patchwork team together for the past few games, but everyone has stepped up," Sanders said. "They show up and they're ready to play. This team has great chemistry and everyone gets along. Of course the winning helps, but our clutch hitting and pitching has just been awesome."
____Dillsburg, on a four-game winning streak, has a tough three-game stretch that includes contests against both of the teams at the top of the WSTBL standings. The Wolfpack were scheduled to face New Cumberland on Wednesday and will enjoy five days off before returning on Monday for a home game against Shippensburg. Dillsburg will remain at home for a game against Cumberland on Tuesday.


See the July 4, 2015 edition of the Dillsburg Banner for details.
---
Feldmiller wins seventh title
By Joe Guty



Photo by Curt Werner.
Range End 2015 Golf Champion Rex Feldmiller (left) receives his trophy from Range End Golf Pro Brett Ernst.
____ Rex Feldmiller held off a rain delay and Justin Lamason to win the 2015 Range End Golf Club Championship on Sunday, June 28. After Saturday's opening round was cancelled due to heavy rain and unplayable course conditions, Feldmiller fired a one-under par 70 to finish two shots ahead of Lamason (72).
____ It was Feldmiller's seventh title after capturing the championship in 2002-05, 2009, 201l. Matt Davis and Dan Ebner shot a pair of 73's while four time club champ Steve Crain placed fourth with a 76. Nate Walker posted a 77 to round out the top Championship Flight scorers. In the First Flight, it was Steve Valencic taking the honors with a 74. Jay Depner was one stroke back at 75 and Todd Smeltz posted a 77. Chris Yost (78) and Ryan Gregorio (79) followed.
____ Denny Burch led the Second Flight with a 77 followed by Mick Burkett (77) and Terry Leer (78). Mark Crain (81) and Dale Bretz (82) followed. Capturing the Third Flight was Jeff Peiffer (86) followed by: Tom Mock (88), Matt Boyer (88), Patrick Killiany (88) and Ken Rider (93).

See the July 2, 2015 edition of the Dillsburg Banner for details.
---

Wolf Tracks
Defensive Driving for Wildlife
By Dave Wolf



Photo by Dave Wolf.
A mallard hen and her ducklings.
____ I swerved to miss a groundhog the other day, a young one that was leaving the cozy burrow where he had been raised. So now he was on his own, and that would include digging a new home. The world before him is a large expanse of landscape, and he has not yet learned that a highway is far different than a freshly cut hay field. A dire consequence could be that he may end up like so many others of his kind; a statistic. Figures show that 77 percent of groundhogs do not live through their first year. No, they don't all die on highways, because the "whistle-pig" has many predators.
____ Young male black bears are now roaming the streets of towns and cities. Although they do create a lot of anxiety, they are most likely simply looking for food. But remember, mothers and their one year old cubs will den together again the winter after their birth. The family group disbands the following spring, when the female is ready to breed again. Consequently, a female generally raises only one litter every two years. The male cubs, now 16 months old and called yearlings, will disperse while female yearlings establish home ranges nearby.
____ Many of those bears found wandering the streets are male yearlings looking for a new home, with little idea on where to go to find one. Again, they too may become a highway fatality. Remember, black bears are extremely hard to see at night—and can cause serious damage to your vehicle.
____ I have also seen an increase in the number of raccoons lying along the highway. In the spring, juveniles disperse from the areas in which they were born. Young raccoons may move only a mile or two, or may travel long distances. Records exist of young males apparently dispersing up to 150 miles, although movement of this magnitude is unusual, according to the Pennsylvania Game Commission, (PGC.)

See the July 2, 2015 edition of the Dillsburg Banner for details.
---