Print Edition Highlights - August 28, 2014



Photo by Curt Werner
On Thursday, August 21, at 8:56 p.m. both northbound lanes of Route 15 North near Carroll Drive were closed for two hours due to an overturned trailer towed by a pickup truck spilling a load of rocks and debris, above.
No injuries were reported. PennDOT, first responders, fire police and Carroll Township police were on the scene. A snow plow, nonright, and sweeper were used to clear the highway.
---

Shermansdale residents Jonette Zeigler and husband Bob with a smiling Reggie.
____ When most organizations announce expansion plans, it's happy news, but when an animal welfare organization is forced to expand out of necessity, it's a sad reflection on how many animals are tossed aside.
____ Since 2002, the Dillsburg-based Canine Rescue of Central Pennsylvania (CRCPA), along with a dedicated group of volunteers, has come to the aid of the many four-legged friends who need assistance.
____ What They Do
____ The non-profit organization, comprised of a core group of 50 volunteers from around the region, has adopted out more than 100 dogs over the past several years, according to President Kristen Acri. "We help many more. Some people contact us when they are having problems and we refer them to our training coordinator to educate them on working with the dogs, providing them with information and referring them to trainers," she said.
____ The no-kill rescue works with dog wardens and other organizations. Sometimes the animals have been abandoned, abused or surrendered. "When a stray is found, we make every effort to first locate the owner, reaching out with ads and through social media," said Acri. If that effort fails, the group concentrates on finding forever homes for the canines. On adoption day, pre-screened owners are provided with a packet of information containing valuable advice on "chipping" the dog, introducing their new family member into the home and other tips to assure a smooth transition.
Click here to read the full story.


See the August 28, 2014 edition of the Dillsburg Banner for details.
---
____ Warrington Township supervisors named Al Hayes to the zoning hearing board, replacing Robert Prough, who resigned. Also named were two alternates to the board, Ken Eshleman and Jason Weaver.
____ Chairman Dean Trump noted he was very pleased with the number of people who applied for the position. Several who applied for the zoning vacancy also applied for the planning commission vacancy that was filled at the August 6 session.
____ Hayes noted in his interview that he had served on both the planning commission and zoning hearing boards in another township, though he has lived in Warrington for the last 13 years.
____ In other action at the session supervisors arranged to pick up ash at Bruner Island to use on winter roads. The ash is just $3 per ton, and though the township will hire a larger truck to haul the material, the cost savings is still substantial over other anti-skid material.
____ Supervisors also heard from Ben Anderson, a boy scout from Dillsburg's Troop 38, about his Eagle Scout project to build benches and planters for the township park.

See the August 28, 2014 edition of the Dillsburg Banner for details.
---
---
Print Edition Highlights - August 28, 2014

Northern Polar Bears to host Warriors
By Joe Guty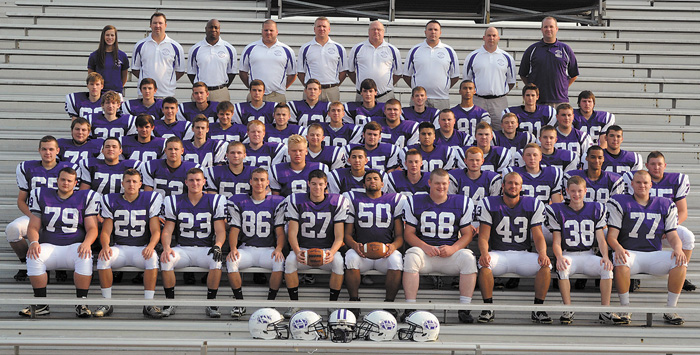 Photo by Curt Werner
The Northern High School 2014-15 Junior and Varsity Football Teams.
____ Last year, the Northern H.S. football team finished 3-7 and 2-5 in the Mid Penn Colonial Division.
____ With two defensive starters, no offensive starters and a new coach, it was a year of opportunities and many down-to-the-wire games.
____ This year, under second year head coach Garrett Mowery, the Polar Bears return four starters on offense and three on defense. Football fans will get a good look at the 2014 squad when the Bears host Susquehannock this Friday night at Bostic Field. Kick off time is 7 p.m. as the visiting Warriors of the York Adams League also seek to improve on their 3-7 mark from last season. Preseason predictions mean little once the opening kick-off occurs but one can count on Northern football pride that is still strong in Dillsburg.


2014 Schedule
Susquehannock - Friday, Aug. 29-7 p.m.-Bostic Field
Middletown - Friday, Sept. 5-7 p.m.-Bostic Field
@Mechanicsburg - Friday, Sept. 12-7 p.m. - Memorial Park
@ James Buchanan - Friday, Sept. 19-7 p.m.
Waynesboro - Friday, Sept. 26-7 p.m.-Bostic Field
Big Spring - Friday, Oct. 3-7 p.m.-Bostic Field (Homecoming)
@ Shippensburg- Friday, Oct. 10-7 p.m.
Greencastle Antrim - Friday, Oct. 17-7 p.m.-Bostic Field (Farmers Fair)
Lower Dauphin- Friday, Oct. 24 - 7 p.m.-Bostic Field (Senior Night)
@ East Pennsboro - Friday, Oct. 31-7 p.m.

See the August 28, 2014 edition of the Dillsburg Banner for details.
---
Northern expects to compete for division
By Andy Sandrik

Photo by Curt Werner
Senior girls soccer players Steph Clark. Shannon Ford, McMenzie Shank and Adorae Monroy.
____ It's not easy to follow a team that makes history.
____ But this year's Northern girls soccer team, minus its top three scorers and All-American goalkeeper, is charged with that task.
____ Mindy Smith's Polar Bears are coming off a season that saw the team win its first District 3 Championship in program history, with Northern defeating rival Trinity 1-0 in overtime to win the Class AA title.
____ But the Polar Bears, who finished 21-2 last year, graduated a huge chunk of their talent.
____ Northern's top three scorers -- Hannah Mabus, Allison Speese and Taryn Casey -- combined for 43 goals last year. They're all gone.

See the August 28, 2014 edition of the Dillsburg Banner for details.
---