Print Edition Highlights - July 7, 2016

Kitten survives road trip wedged in motor

by Curt Werner
Early on Sunday morning, July 3, a six- week-old kitten found the old tale true that a cat has nine lives. On Saturday, July 2, Dillsburg's former mayor, Hank Snyder, and his wife, Pam, arrived at Pam's nephew Mark Propst's farm in Latimore Township for a wedding. Like at most farms, there is a cat on the premises. Six weeks before the wedding this cat gave birth to five kittens. Having a number of people at the wedding was the perfect chance to give away some of these kittens. One kitten took matters into its own paws. The next morning, Pam Snyder went to start her car to go to church. Opening the car door she heard a noise. At first it sounded like a bird. She stopped and listened again. A "meow" came from under the car's hood.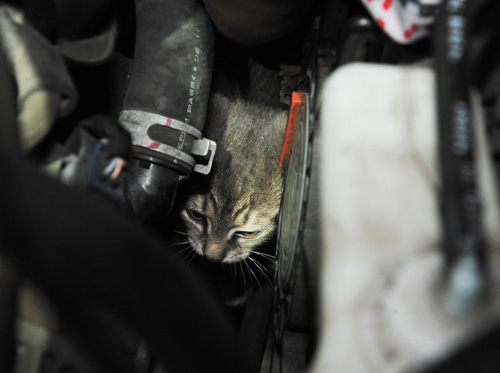 Six-week-old kitten stuck between the car's motor and radiator.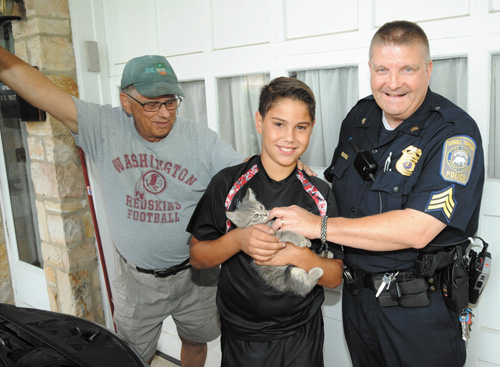 Hank Snyder, Mason Diaz and Sgt. David Smith with the kitten that was rescued.
For more information see the July 7th, 2016 edition of the Dillsburg Banner

---




Beaver Creek Road bridge in Warrington Township is scheduled for repair over the weekend of July 9 through 10. The long-awaited fix for the low weight limit bridge on the dead-end road is scheduled to be reopened for service after two days of work, weather permitting. Paving of the road may not be done in two days, but the bridge can be returned to service and one lane open while that is underway.

For more information see the July 7th, 2016 edition of the Dillsburg Banner

---




Washington Township's June 20 supervisors' meeting had little business to conduct, though one subdivision that consolidates several lots was approved. The subdivision reconfigures seven lots down into three, with two potential building lots and an agricultural tract. Several notes were to be added to the plan including those that indicate soils testing is not done on the agricultural lot and that the lots cannot be re-separated at some future time.

For more information see the July 7th, 2016 edition of the Dillsburg Banner
Print Edition Highlights - July 7, 2016

Chalk up a District 14 banner for the Dillsburg Youth Baseball league. The DYB's Intermediate (50/70) all-star team became the league's first district champion this spring after defeating Shippensburg 11-1 in Friday's championship game, held in Hanover. Tim Phipps' boys moved on to the Section 7 tournament, which began on Tuesday with a 7-5 win over Warwick. "Oh yeah, this is really exciting for the entire team," Phipps said. "I would have to say our reaction was that this felt well-earned. Our primary competition here was Shippensburg. They have a really good baseball team."
photos by Curt Werner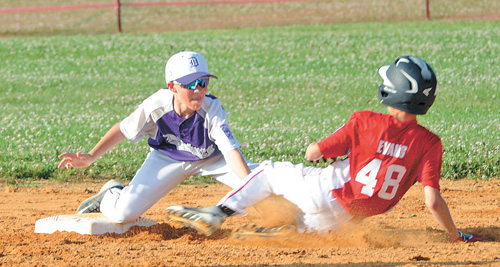 Dillsburg shortstop Nate Phipps tags out a Warwick runner as he tries to steal second base.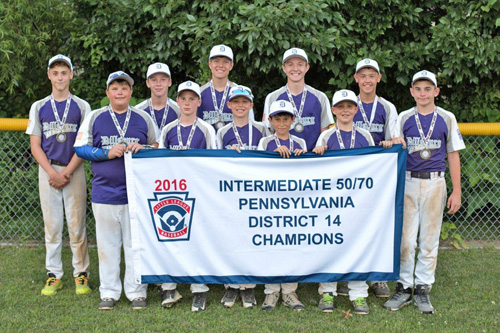 The team displays the District 14 banner. Pictured from left front row are Connor Hennessy, Anthony Kearney, Nathan Phipps, Benedict Daggs, Jack Phipps and Kaleb Dees. Back row Dylan Harner, Alec Welshans, Blake Markwood, Jaxson Irwin and Tanner Merovich.
For more information see the

July 7th

, 2016 edition of the Dillsburg Banner
11-12 All-Stars lock up District 14's No. 1 seed
by Andy Sandrik

Dillsburg Youth Baseball's 11-12 all-star team has been perfect this postseason in terms of wins and losses, but in order to secure the No. 1 seed for the District 14 double-elimination tournament, Erick Johnson's boys needed to play even better. On Wednesday, Dillsburg got that statement performance by wrapping up pool play with an 8-0 win over Shippensburg. Johnson's team, which has outscored its competition 39-5, improved to 4-0 and more importantly, took control of the No. 1 seed to earn a first-round bye.
photo by Curt Werner

Trenton Bender slides safe into third base while the ball gets away from Newville's third baseman. Bender then went on to score a run.
For more information see the

July 7th

, 2016 edition of the Dillsburg Banner
---