Print Edition Highlights - July 12, 2018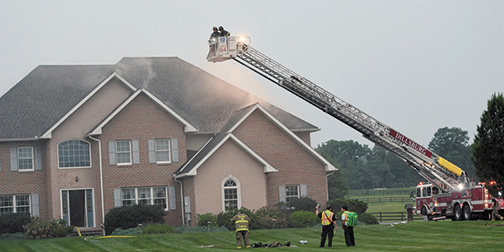 The Dillsburg Citizen's Hose ladder truck is positioned over the roof during a house fire in the 300 block of Mt. Zion Road, Warrington Township, Wednesday, July 4.
House, struck by lightning, catches fire twice
A house in the 300 block of Mt. Zion Road, Warrington Township, struck by lightning, caught on fire Wesnesday July 4. The fire ignited again the following day.
Eleven fire companies responded to the initial call including those from Wellsville, Dillsburg Citizen's Hose, Franklintown, Monaghan, Upper Allen, Lake Meade, York Springs, Monroe Township, Citizens of Mechanicsburg, Dover Township and Dover.
Authorities believe the house may have been hit by a bolt of lightning because bricks on the chimney shattered. Smoke filled the structure. Wellsville Fire Chief Larry Anderson had command of the fire incident. No one was injured.
"I am proud to sign this legislation, which will make it easier for those who have interacted with the justice system to reduce the stigma they face when looking for employment and housing," Gov. Wolf said. "Clean Slate passed in an overwhelmingly bi-partisan manner and I want to thank the General Assembly and the many advocates and stakeholders who made this possible."

"I'm honored to have authored this law, which had almost unanimous support of both Republicans and Democrats in both chambers of the General Assembly," Delozier said. "People who have been convicted of or pleaded guilty to minor misdemeanors many years ago deserve a second chance. They have shown that they have reformed their lives, and this barrier to employment and housing needs to be removed."

"With enactment of this clean slate legislation, citizens who have paid their debt to society and proven their rehabilitation can truly re-integrate into their communities," Williams said. "I look forward to welcoming these returning citizens to our workplaces and neighborhoods."
_____________________________________________________________________________________________
 Dillsburg Citizen Hose firefighter Seth Freeburn cuts a hole in the roof with a chainsaw Thursday, July 5, after a house fire re-ignited. 

__________________________________________

_____________________________________________________________
Photo by Hilary Keeney
Kyle Miller is called safe after sliding into homeplate at Thursday's game against Greencastle on Ryder Field.
End of line for DYB in District 14 play
All-Star season is officially over for Dillsburg Youth Baseball's 9-10 and 11-12 Little League teams. Both squads fell short in District 14 double-elimination bracket play last week.
The 9-10 state team, led by manager Brian Swartz, won its opener 7-3 over Dallastown, but went 1-2 over the next two games and was eliminated. Swartz' boys finish the postseason with a 4-3 record, with the team outscoring the competition 59-39 along the way. 
Mark Yinger's 11-12 international team was haunted by errors as it went 0-2 last week, losing both games by a combined three runs. Dillsburg, which outscored opponents 34-17, finishes with a 3-3 record.
"We had one- and two-run losses. There were runs we gave up and plays we didn't capitalize on," Yinger said. "I'm proud of the way the boys played. They were good kids who played with a lot of heart and I was happy to be coaching them.
The Dillsburg Youth Baseball 7/8 Clarence Boyd All Star team. Pictured from left, front row are: Milez Hobby, Mark McCauslin, Jude Bower, James Kirkland, Brady Anderson and Alex Fronk. Back row: Will Brown, Zach Krise, Ethan Robel, Trevor Fromm, Colton Strayer and Garret Mainhart.
Clarence Boyd last chance at banners for DYB
By Andy Sandrick
There's only one path remaining for Dillsburg Youth Baseball to bring home a District 14 Little League banner: The Clarence Boyd Tournament.
With all of the DYB's state and international teams now eliminated from district play, the hopes of the league fall on three outfits with players ranging from 7 to 12 years old. Those teams begin play in the week to come.
Two DYB teams -- the 7-8 and 9-10 squads -- will be attempting to defend the CBT championships won by their 2017 counterparts. Dillsburg will also be sending out an 11-12 team.
Below is a team-by-team look at DYB's entries into the Clarence Boyd Tournament:



For more information see the July 12, 2018 edition.